Last week, I took my youngest to see the Peter Rabbit movie.  He's almost ten and all boy but still has a sweet, tender side that loves baby animals, hugs and holding my hand in public.  Well, I made up that last part but I'm so happy that he doesn't feel too old to watch Peter Rabbit with his mom 🙂  The movie was soooo cute and funny and if you've ever fantasized about living in the English countryside (duh, who hasn't) then you'll love it, too. Isn't this cottage the sweetest?  I decided immediately that I'll one day live in such a cottage and I set to Googling "English style cottages in America."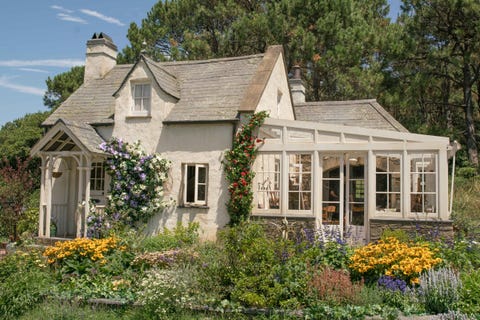 Bea's Cottage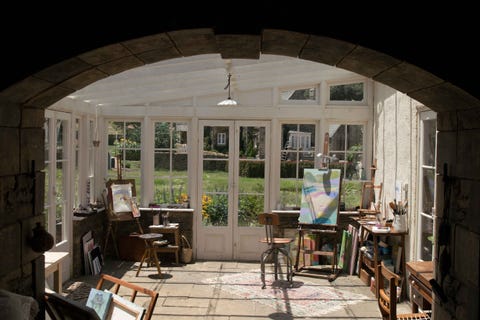 Bea's Studio
What I found is that we don't really have the type of architecture in the U.S. that we would think of typically English.  What we DO have here that we often consider "cottage-style" are often craftsman bungalows, traditional Cape Cods, Tudor revivals, farmhouses with Victorian elements and shingle style homes.  Add a lovely front garden that can only be described as "restrained chaos" and we can come pretty close to recreating the charm of an English country cottage.
This gambrel style guest home on Long Island is the perfect quaint cottage.  Designed by architect Stuart Disston, it seems to capture that timeless feel of a house that has just "always been."
Gambrel Style Cottage by Stuart Disston
The interior designer, Douglas Graneto, perfectly marries the unique architecture with a layered, textural style that speaks perfectly to casual, seaside living.  The exquisite drapery fabric sets the tone for the whole home, I think.
This shingle style home on the other coast was built and designed by Steve and Brooke Giannetti.  You must read her blog, Velvet and Linen,  So much eye candy.  I'm so in love with Brook's casual elegant style.
Steve and Brooke Gianetti
This sweet little cottage belongs to Frances Schultz, a contributing editor at House Beautiful.
I love the iron gate at this charming Tudor.  Nothing says cottage garden like climbing roses!
This sweet Tudor home in Birmingham, Alabama belongs to Betsy Fleenor and was showcased in Southern Living.
Meandering paths help keep the garden organized and easy to maintain while staying true to the romantic, cottage style.
And in my neck of the woods, there's Colonial Williamsburg.  Every time we visit my heart gives a little lurch because #dreamhome.  The kids are admiring the muskets while I'm fantasizing about colonial cottage life.   Without people trying to peak in my windows, of course 🙂
Throw in triplet baby lambs and life would be just about perfect!
Happy Spring!
Want to freshen up your home?  I'd love to help!