Beige gets a bad rap, I think.  Even designers will use the term "apartment beige" to describe a boring, bland beige paint that falls flat and puts one in mind of 80s dormitories.  But "beige" is a actually a pretty generic word that includes literary hundreds (thousands?) of  wonderfully complex colors that range from soft off-whites to rich caramels and everything in between.  An understated neutral lets other elements shine.  Wood floors and architectural details can be the star of the show when the walls aren't screaming "look at me!" Brass elements look especially lovely against a warm beige.  A warm beige also works well in a north facing room that doesn't get much natural light.  But with so many beige options to choose from, there's truly a shade for every room and every lighting situation.  Below are some stunning rooms that feature some of my favorite beige paints.
This Nashville home features Sherwin Williams Kilim Beige in the hallway and foyer
and here again in the breakfast nook.
Carolyn Kendall via Traditional Home
Benjamin Moore's Pashmina is a slightly deeper grayish-beige that looks gorgeous here wrapped above on the ceiling.  Isn't this a cozy space?
Benjamin Moore's Elephant Tusk. Love. That. Name.  The perfect neutral in this space with those amazing windows. So pretty against the wood tones.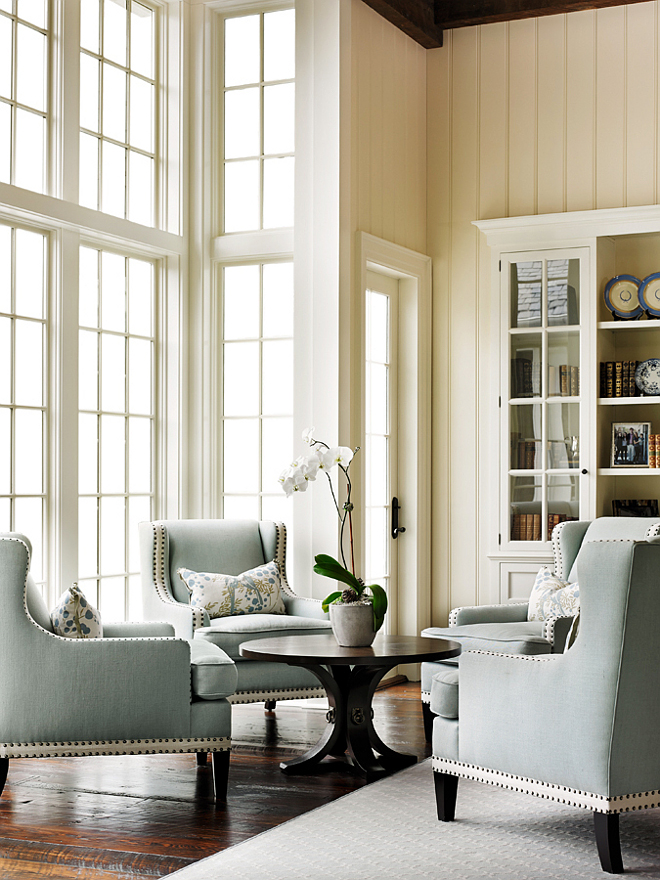 T.S. Adams Studio via Home Bunch
Benjamin Moore's Grant Beige is another greigy beige that reads a little grayer in some lights but is still warm enough for a darker room.
Martha O'Hara Interiors via Houzz
Sherwin William's Accessible Beige is a good all-around beige.  I love it here paired with the blue in the adjoining room.
As with any paint, it's so important to sample your beige first throughout the day and on each wall in the room. I do think, though, that these nine paints could be considered "universal donors," happy just sit and be quietly pretty in most any situations.
top row: 1. SW Balanced Beige 2. BM Pashmina 3. BM Carrington Beige
middle row: 4. BM Bleeker Beige 5. SW Accessible Beige 6. BM Elephant Tusk
bottom row: 7. BM Muslin 8. BM Grant Beige 9. SW Kilim Beige
Happy Painting 🙂