Natural area rugs have become very popular over the past few years and with good reason.  They're inexpensive, easy to care for and layer beautifully with other rugs.  They also help lend texture to a room and offer a relaxed, organic feel which I love.  They're at home in virtually in decor style and look equally well in casual and more sophisticated spaces.  The three most popular types are seagrass, jute and sisal. All look different and have different qualities and it may be difficult to choose without knowing the pros and cons of each.  I've owned and worked with both seagrass and jute and but I'd say seagrass is really my favorite for reasons you'll see below.
Seagrass
Seagrass rugs are created from plants grown in marshes, so the material is naturally nonporous meaning it doesn't readily stain.  Spills can easily be wiped off of the coarse weave and it can be vacuumed normally and spot cleaned.  It will arrive smelling fresh and "grassy" and with a slight greenish tinge that fades over time. These rugs are extremely durable but do feel rough under feet. Not ideal for a small child's room (although layering a softer rug is an option) but perfect for high-traffic areas and stairs.
I have this seagrass rug from Ballard Designs with a matching cotton banding in both my dining room and living room.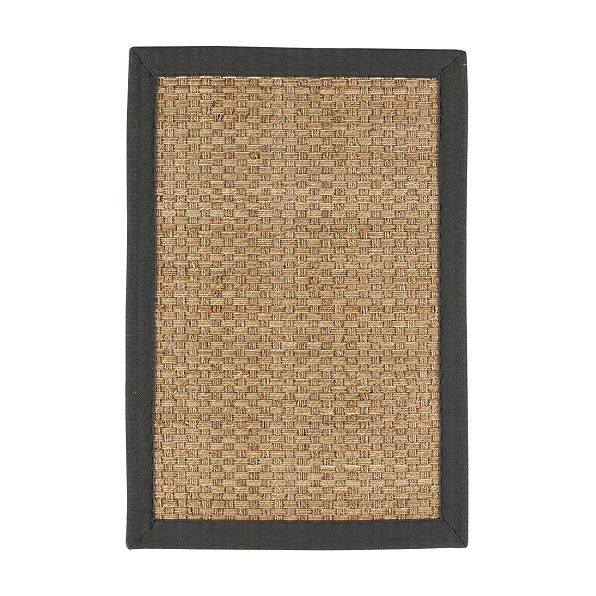 This entire renovated farmhouse is beyond stunning.  Click the link under the photo to view the entire home.
Tobi Tobin via House Beautiful
Gorgeous room with a layered cowhide by Park and Oak.
Another layered situation and the cover of Lauren Liess's beautiful book.  Love, love, love her casually elegant, organic style.  She uses seagrass often in her projects and has her own rundown of natural rugs here.
Jute
Jute rugs, woven from vegetable fibers, win the softness contest but they are much less durable.  They are thicker than seagrass and sisal but are also prone to shedding.  Unlike seagrass, they aren't bound and often have a decorative fringe around the edges.  They can stain and even develop mildew or mold if left damp. They vacuum up well but should never be cleaned with liquid spray cleaners.  Jute rugs are not sold with a backing and therefore can be flipped over if necessary.
Below you can see the thicker, looser weave of the jute.
fwmadebycarli via Instagram
Sisal
Two words.  Sisal stains.  Even water can stain a sisal rug because the fibers are very porous.  Because of this, the rugs can be dyed in different colors. Sisal rugs are often woven with cotton or wool into patterns such as diamond or herringbone. The texture can be more "slippery" than seagrass or jute, so it shouldn't be used on stairs or high traffic areas.  Because the weave is tighter, it can lend a more polished appearance to a room.
Design Indulgence
There you have it!  The good bad and the ugly when it comes to natural area rugs.  As you can see, there are pros and cons to each.  Before making your decision, think about the function of the space, the amount of traffic through the room and your family's lifestyle.  From there, choose a weave and style that appeals to you.